Families in suburban settings often miss out on the chance to borrow tools from neighbors because they are unaware of what is available in their own community. Growing up, I noticed that our family only shared tools with next door neighbors, although there was much greater potential within the neighborhood. I wanted to fix that problem by designing an app which would facilitate sharing amongst neighbors.
A young family that recently relocated from Sacramento, California to Portland, Oregon. The Coopers value living with meaningful connections to their neighbors and community and often refer to themselves as "suburban minimalists."
Hobbies
• Hiking • Camping
• Organic Gardening
Values
• Minimalism • Sharing
• Ethical Products • Sustainability
General
• Combined Income - 173,000. • Ages 29 & 31
• 1 Child (Maddison, age 3) • Caucasian
Brands
• Toyota • The North Face • Trader Joes • Land's End
Revenue Model
TooLoo would be free to download and use, the revenue is generated through collecting users' data (with their consent). Hardware retailers such as Home Depot and Lowe's could use the information to better understand the needs of their customers or offer their customers a branded version of the app. There is also the possibility to include small, relevant advertisements imbedded in TooLoo, tailored to what tools the neighborhood might need most, and encouraging those who have less to share to buy what is lacking from the neighborhood's ecosystem
Although there are apps which provide similar services such as My Shed (UK) and Black & Decker Social Tools, TooLoo is unique because it's free to users from the onset. In most cases, the indirect competitors include an element of payment for rental, or they are trying to tackle a much broader problem (Nextdoor, for example, is an entire social network). TooLoo keeps it simple.
I always find it helpful to bounce back and forth between digital and physical drawings, here are some of the wireframe I used to quickly gain clarity about the layout of TooLoo.
The look and feel of TooLoo went through many iterations. I used Google material to create the end product, it made the process faster, increased accessibility and ensured the designs would be inexpensive to develop.
A concept for a lightweight app, focused on making it easy to see what tools neighbors have to share, schedule a time to borrow them, and send messages to coordinate it all.
Make a profile, f
ind your neighborhood,
request to join.
Get verified, explore, and borrow.
Add a tool,
or remove one.
As digital product become more pervasive, finding ways for print publishing to innovate and continue to create revenue is paramount. Nochtun offers a glimpse into how a highly integrated digital and print publication might look in the future.
Much of the ideation and iteration of Nochtun was done digitally within Sketch. The iteration process was focused on subtle elements such as color and typeface.
Sonja is a 20 year old university student who is working on her degree in Video and Performance Art at The University of the Arts in Berlin. Although she studies art, she never wants to be nailed down to one thing, she loves music, art , and fashion design and considers everything connected.
CURRENT MEDIA FAVORITES
• Vice
•Dazed and Confused Magazine
• Nylon Magazine
Nochtun is a hybrid digital experience. Readers buy a copy, scan the RFID and have access to the app.
The value would come firstly from the purchase of the paper version, secondly from paid advertising inside the app, and thirdly to inform the publisher about the popularity of articles and give them never before available user data.
Nochtun is a concept for hybrid publication set in the future.
I wanted to push boundaries and rethink what's possible, and at the same time learn how to use Principle to create stunning interactive animations.
What will our designs looks like as our design tools become better and better at generating code?
What if graphic design editorial elements are also navigation?
Transitions are part of what makes Nochtun so unexpected and delightful: the surprising way elements behave as they take on different forms.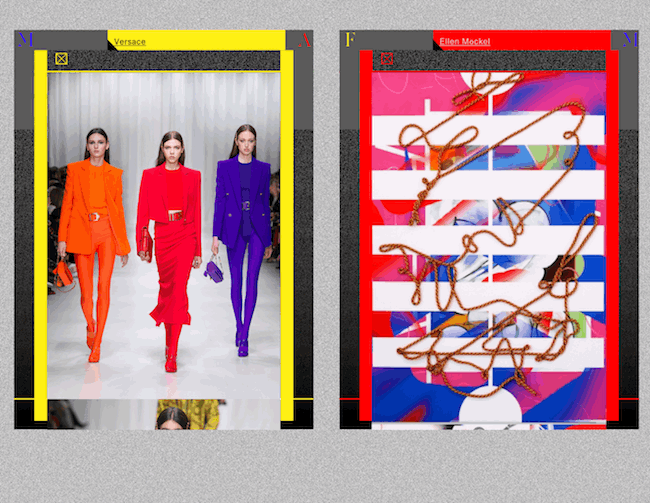 Especially within the arts, content falls between categories. In Nochtun articles can exist in more than one category (music, art, fashion) at once .
When it comes to Amazon's Music app, the material and UI design don't quite compete with the major players like Apple, Spotify or even Soundcloud. In addition, the look and feel could be better integrated within the scope of Amazon's digital products and services.
At the moment, I am doing some baseline usability testing and collecting qualitative user data about how users interact with the current Amazon Music App. If you'd like to take part don't hesitate to contact me: friendlyindex@mail.com
The Solution
Stay tuned to see what I come up with ;)
In the mean time, got feedback?
what could I do better?
what about my work did you love/hate?